Both Hard and Soft Measures Together? Or Hard and Soft Measures Mutually Cancelling One Another? –Examining the Taiwanese Pineapple Import Ban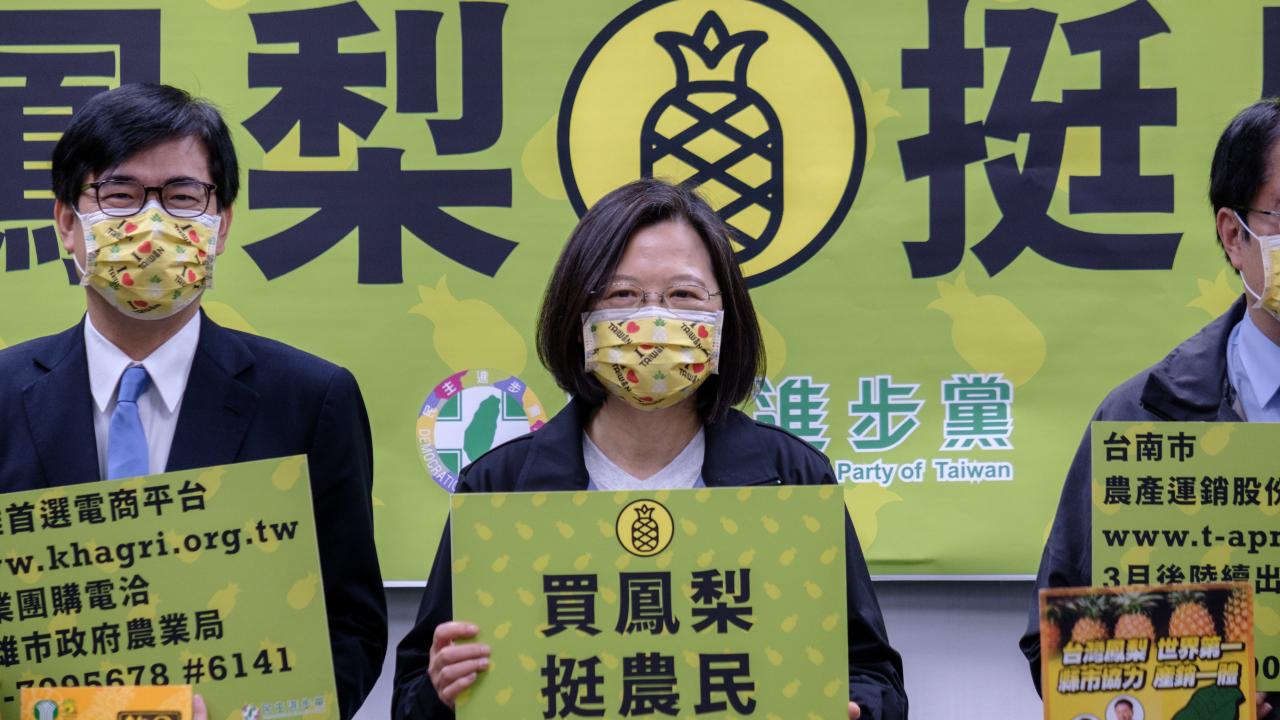 1. The Pineapple Import Ban–A Trade Issue or a Government Issue?
On February 26, 2021, the Chinese government (Department of Supervision on Animal and Plant Quarantine under the General Administration of Customs of the People's Republic of China) announced that imports of Taiwanese pineapples were to be halted from March 1, on the ground that it had detected a pest called scale insect since the previous year (2020). This has resulted in the cancellation of between 30,000 and 50,000 tons of pineapple exports from Taiwan to China.
The suddenness of this announcement has been a bolt from the blue for Taiwanese pineapple farmers, many of whom are now complaining. Farmers in the major production areas of Tainan City and Pingtung County in particular have been hit hard.
In fact, this incident is more than a simple trade issue. It throws the politics of China-Taiwan trade into sharp relief, particularly the issue of Taiwan's economic dependence on China. Moreover, the incident once again reveals the childishness of China's maneuvering around Taiwan (reunification strategies).
2. Recognition and reaction from Taiwan
The Taiwan Affairs Office of the State Council press officer explained that the Chinese government's import halting measures are normal and rational in respect of biosecurity.[1] However, Taiwanese agricultural products exported to China last year had a quarantine inspection pass rate of 99.97%, and Chinese domestic produce also suffers from scale insects.[2] Therefore, the current ban appears to the government and citizens of Taiwan to be nothing other than an attempt by China to bully Taiwan.
At any rate, the timing of the incident has coincided with the start of the political season of China's Chinese People's Political Consultative Conference and the National People's Congress (the so-called "National Two Sessions"). For this reason, it seems likely that it is more than a mere technical issue of pests, and that there are probably political objectives targeting Taiwan in the background. In addition, Tainan City and Pingtung County are home to a large number of Democratic Progressive Party supporters, and Pingtung County is home to both President Tsai Ing-wen and Premier Su Tseng-chang. Therefore, the incident is extremely likely to be a tactic by the Beijing authorities targeting the highly agricultural area of southern Taiwan. Ordinary Taiwanese citizens have also been outraged by the incident, which they perceive as a case of provocation and bullying of Taiwan by China.
The Taiwanese government has criticized China's import ban as an act not in good faith.[3] President Tsai declared that "China's ambush-style, unilateral import ban announcement is clearly not based on normal trade concerns. It is to be condemned." Furthermore, Minister of Council of Agriculture Chen Chi-chung stated that "(the import ban) is completely unacceptable."
Moreover, amid preparations for the regional election next year (2022), this incident will not go unnoticed by the opposition parties as it will have an impact on votes. The leader of the largest opposition party, the Chinese Nationalist Party, is running Taiwanese pineapple promotion activities in the fourteen local governments that belong to the party.[4]
3. Sensitivity and vulnerability of Taiwan's China trade
Taiwan is highly dependent on China for trade, with China exports accounting for around 40% of its total export value. Mutual dependence between states is an extremely important theme in the field of international politics, and the two main concepts related to it are "sensitivity" and "vulnerability." Sensitivity is defined as the level of damage imparted to a country by another country's economic fluctuations when a normal economic relationship is maintained. By contrast, vulnerability is defined as the damage incurred when transnational exchanges are severed. In many cases, vulnerability has been used as a lever to force a counterpart to accept demands.[5]
Considered in the light of these two concepts, the Taiwanese pineapple import ban clearly presents an issue of vulnerability rather than the sensitivity of Taiwan's pineapple exports to China. In fact, 95% of Taiwan's pineapple exports go to China. Therefore, if China stops imports of Taiwanese pineapples, Taiwan must find another market for them. The problem is that another market is not something that can be found right away, and it takes some time for demand to stabilize and expand. China is truly exploiting Taiwan's dependence on it.
4. Taking the cross-strait incident as an opportunity for Taiwanese diplomacy
However, looking at developments from just after the incident until today, it is clear that the problem of Taiwan's vulnerability in the Chinese-Taiwanese pineapple trade is not so serious as to be completely hopeless.
In response to the incident, the Taiwanese government has put out a message calling on people to eat a lot of pineapple with a slogan exhorting them to support farmers by eating pineapple.[6] Many citizens and corporations have purchased large quantities of pineapple to support farmers. A large number of orders also arrived from Taiwanese people living overseas in Singapore and other countries.[7]
There have also been a series of movements in support of Taiwan in the international community. The American Institute in Taiwan, the de facto U.S. embassy, added photos of Taiwanese pineapples to its Facebook page, and created a fun title using the word "pineapple" as a verb, "Have you pineappled today?", meaning "Have you eaten or bought a pineapple today?", to show its support for Taiwan in its pineapple crisis.[8]
The Canadian Trade Office in Taipei also posted images on its Facebook page of happy looking staff with pineapples, with the caption "We love pineapple on pizza, especially Taiwanese pineapples!"[9]
Japan has sharply increased its imports of Taiwanese pineapples, with the purchase amount this year expected to increase by 130% from the previous year. Partly because this is the 10th anniversary of the Great East Japan Earthquake, Taiwanese representative in Japan, Chang-Ting Hsieh, refers to the mutual assistance between Japan and Taiwan during natural disasters over the past ten years as a "beneficial cycle."[10] This time, the mutual assistance is for a "human disaster," and this too surely constitutes a beneficial cycle. Japan probably remembers the 2010 Chinese fishing boat collision incident and following ban on exports of rare earths to Japan by the Chinese government.
The international support for Taiwan may bring back the memory of Australian-Chinese tensions sparked by a string of import bans by China. In his current twitter feed, Riley Walters of the US thinktank the Hudson Institute has commented that "Nothing pairs nicely with an Australian wine like a Taiwanese pineapple cake. Tastes like freedom." This comment ties the Taiwanese pineapple import ban with the ban on imports of Australian wines, etc., and implies that China is engaging yet again in hegemonism.[11] Furthermore, the resolute attitude of the Taiwanese and Australian governments in confronting these incidents has doubtless made an impression on the international community.
Although Australia also grows pineapples, apparently it imports a small quantity from Taiwan.[12] Incidentally, Taiwan and Australia had already signed a memorandum on agricultural cooperation in 2001 ("Memorandum of Understanding on Agricultural and Agribusiness Cooperation"), however in March 3, 2021 they inked an additional pact on agricultural cooperation. Under the pact, Taiwanese pineapples will be exported to Australia.[13] The recent incident has tied political significance to the agricultural produce trade between the two countries.
5. Making a Crisis into a Turning Point
Thus, the current import ban has ceased to be just a difficult problem or crisis for the Democratic Progressive Party government. Looking at the subsequent developments, it has actually become a fortunate event.
As mentioned above, it seems that the objective of the Beijing authorities has been to attack the Democratic Progressive Party's voter base among the agricultural industry in southern Taiwan and create an impression that the governing party has made an error in its cross-strait policy as a means of putting blame on the Taiwanese government. As a result, there has certainly been a great deal of concern among farmers, many of whom have asked the government for support. Moreover, the rapid response of the Tsai administration has enabled the Taiwanese pineapple industry to overcome the crisis.
Indeed, rather than a crisis, the incident has actually created a good opportunity for change in Taiwan's internal government and foreign diplomacy. The encouragement of the international community was mentioned above, and internally, the Democratic Progressive Party has truly turned the incident around to further consolidate the country in its support for the government.
According to an opinion poll by the private thinktank Asia-Pacific Elite Interchange Association, announced March 9, 64.2% of Taiwanese citizens believe that the problem (mistake) in this case lies on the Chinese side, making this the majority view.[14] Recently, the Taiwanese government changed the personnel working on China policy, but it is not clear at this stage whether the related policies will be adjusted going forward. However, it is clear now that the pineapple import ban has occurred that if the Taiwanese government were to formulate a resistive policy on China (particularly with regard to economic security), they could expect to receive a great deal of support from the public.
6. A nonsensical unification strategy of "mutual cancellation" of hard and soft measures
China's Taiwan policy is often characterized as being "both hard and soft." Hard measures refer to the showing a willingness and threat of using military force. These include military drills and incursions of military aircraft and vessels across the midway line of the Taiwan strait. By contrast, soft measures include presenting and conferring economic benefits. In February 2018, the Taiwan Affairs Office of the State Council announced "31 preferential policies"[15] for Taiwanese companies and individuals, followed in November 2019 by the announcement of "26 preferential policies." These soft measures are intended to win the hearts of the people.[16] Providing a market for Taiwanese produce is an example of such policies.
The original purpose of soft measures is to get the counterparty to relax their guard and have them act in accordance with your own wishes. If the counterparty cannot be made to believe and accept the soft measure, hard measures may be employed to scare the counterparty into accepting the soft measure. By skillfully manipulating hard and soft measures with good timing, it may be possible to achieve your aims without using hard measures. However, if the process is not executed well, the hard and soft measures may end up cancelling each other out.
Currently, the issue of frequent incursions by Chinese military aircraft into Taiwan's Air Defense Identification Zone is increasingly eroding the trust of Taiwanese citizens in the "goodwill of the ancestral land," which was the intended message of the Beijing authorities in the 31 preferential policies and the 26 preferential policies. Malicious actions have invalidated "goodwill," so that the hard and soft measures cancel each other out, rather than working as "both hard and soft." Looking forward, even if the Chinese government were to reopen the pineapple market to Taiwan in an effort to communicate the "love of the ancestral land," it seems unlikely that the Taiwanese people would believe in that love now.
In the recent import ban, a policy tool, which is conventionally used as a soft measure, has been used in a hard way. This has resulted not only in hard and soft measures cancelling each other's effects, but also in the loss of one soft policy tool as an option. The Taiwan Affairs Office of the State Council and other parts of the Chinese government have been tying their own hands through these reunification strategy measures. Such reunification strategies can only be described as nonsensical.
7. Conclusion
An editorial in the Chinese government affiliated Global Times on February 28, 2021 claimed that Taiwan had politicized the pineapple import halt, and that China's measures was unrelated to political issues, denying a political objective while also issuing a threat that "the pineapple import ban" is not even a first move. We do not even need to say what card China will play next. The Democratic Progressive Party is about to experience a series of nightmares,"[17] alluding to the possibility that other Taiwanese exports to China may also be subject to bans. It is a naked threat.
The government of Xi Jinping has been in power for almost nine years, during which time China has continued to fly the flag of reunification of China's ancestral lands. While the government has announced multiple policies favoring Taiwanese people, the hearts of the Taiwanese will actually grow more distant from the country across the Taiwan strait.
Nevertheless, the Beijing authorities do not seem to learn their lesson. Rather, they have yet to give up the philosophy of hegemonism, which speaks through power and imposes its will on others. The psychological gap between Chinese and Taiwanese society seems to have been included in the Outline of the Plan for National Comprehensive Three-dimensional Transport Network, and the illusory China-Taiwan railway "Scheduled for completion" in 2035 will probably not serve as a bridge.[18]
[1]國台辦:大陸暫停進口臺灣鳳梨是正常生物安全防範舉措,新華網,February 26, 2021, http://www.xinhuanet.com/tw/2021-02/26/c_1127142979.htm。
[2]蔡蘇28日訪鳳梨產地力挺農民 政院喊話回歸貿易討論, The Central News Agency, February 27, 2021, https://www.cna.com.tw/news/aipl/202102270154.aspx。
[3]總統府:中禁台鳳梨非善意 不會得台灣人民支持,The Central News Agency,February 26, 2021, https://www.cna.com.tw/news/aipl/202102260174.aspx。
[4]影/鳳梨危機 江啟臣:國民黨執政14縣市全力助農民, United Daily News, March 2, 2021, https://udn.com/news/story/120657/5285110;力挺果農 國民黨網路行銷近6000斤鳳梨, The Central News Agency, March 2, 2021, https://www.cna.com.tw/news/aipl/202103020081.aspx。
[5]Yoshinobu Yamamoto, "Kokusaiteki Sogo Izon," (International Mutual Dependency) pp. 4-5
[6]Facebook page of Tsai Ing-wen, February 26, 2021, https://www.facebook.com/tsaiingwen/posts/10157329149836065。
[7]新加坡台商訂25噸鳳梨 首批台南出貨, The Central News Agency, March 10, 2021, https://www.cna.com.tw/news/aloc/202103100102.aspx。
[8]American Institute in Taiwan Facebook page, March 2, 2021, https://www.facebook.com/AIT.Social.Media/posts/10158954397253490。
[9]Canadian Trade Office in Taipei Facebook page, March 1, 2021, https://www.facebook.com/CANADATPE/posts/4362254790468317.
[10]311震災10週年 日媒報導謝長廷談善的循環, The Central News Agency, March 11, 2021, https://www.cna.com.tw/news/aopl/202103100402.aspx。
[11]Riley Walters twitter page, February 26, 2021, https://twitter.com/walteriley/status/1365304405298458626.
[12]澳洲傳批准6公噸台灣鳳梨進口 當地果商喊話支持國產, The Central News Agency, March 12, 2021, https://www.cna.com.tw/news/aopl/202103120353.aspx。
[13]台澳簽署農業合作條款 鳳梨銷澳續攜手產銷荔枝, The Central News Agency, March 3, 2021, https://www.cna.com.tw/news/firstnews/202103030300.aspx; "Taiwan to export pineapples to Australia," Taipei Times, March 4, 2021, https://www.taipeitimes.com/News/taiwan/archives/2021/03/04/2003753223.
[14]智庫民調:逾7成民眾贊成促成兩岸對等尊嚴對話, The Central Press Agency, March 9, 2021, https://www.cna.com.tw/news/acn/202103090110.aspx。
[15]The official name of the measure is the "關於促進兩岸經濟文化交流合作的若干措施." 關於印發 "關於促進兩岸經濟文化交流合作的若干措施" 的通知, Taiwan Work Office of the CPC Central Committee, Taiwan Affairs Office of the State Council, February 28, 2018, http://www.gwytb.gov.cn/wyly/201802/t20180228_11928139.htm。
[16]The official name is "關於進一步促進兩岸經濟文化交流合作的若干措施." 國務院台辦, 國家發展改革委出臺 "關於進一步促進兩岸經濟文化交流合作的若干措施," Taiwan Work Office of the CPC Central Committee, Taiwan Affairs Office of the State Council, November 4, 2019, http://www.gwytb.gov.cn/wyly/201911/t20191104_12214930.htm。
[17]社評:台當局對 "盡菠蘿"想得很多蓋因心虛,Global Times, February 28, 2021, https://opinion.huanqiu.com/article/427QJg4Lfvx。
[18]中共中央 國務院印發國家綜合立體交通網規劃綱要, The State Council of the People's Republic of China, February 24, 2021, http://www.gov.cn/zhengce/2021-02/24/content_5588654.htm。